Taking their lead from a 2014 court decision, an increasing number of people are disavowing their pledge to the monarch, a subject on which Canadians are split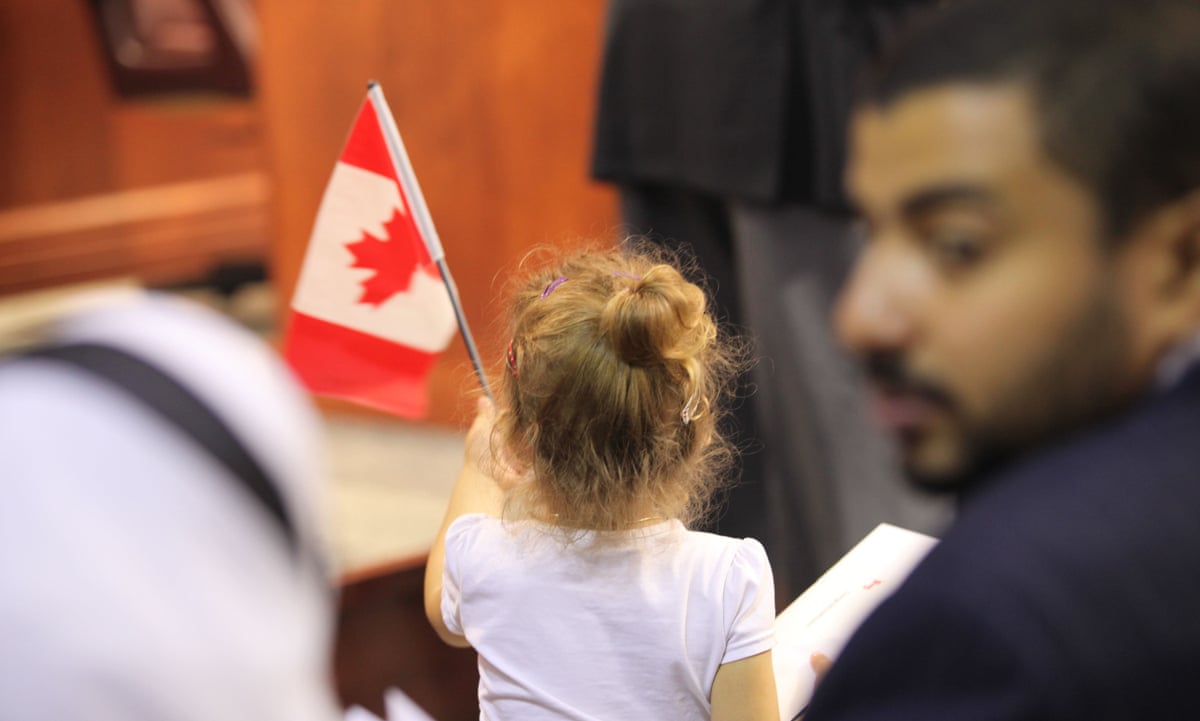 On a rainy afternoon in Montreal, Lorraine Harrilal sporting a 2008 Barack Obama campaign T-shirt and a shawl that paid tribute to Canadas Aboriginal peoples held up her right hand alongside 20 others and took the oath to become a new Canadian.
Minutes later she broke away from the group to carry out her first act as a Canadian citizen, handing a letter to the officiating judge that recanted 25 of the 43 words she had just recited.
Her issue was not with the part of the oath that swears to obey the laws of Canada or fulfil her duties as a citizen. Rather she was disavowing the promise to be faithful and bear true allegiance to Her Majesty Queen Elizabeth the Second, Queen of Canada, Her Heirs and Successors.
In her letter, she explained why. I regard it as an unnecessary allegiance to an institution that is the antithesis of democracy, while emblematic of hereditary, parasitic oligarchy.
Similar scenes have played out across the country in recent months, as a small but determined group of naturalised Canadians rebel against the oath to the Queen required of all new Canadian citizens.
I believe in equality and taking the oath to the Queen was something very uncomfortable for me, said Harrilal, a 32-year-old who arrived in Canada nearly 13 years ago from Trinidad. I prefer to be a citizen, not a subject.
She was confident in the legality of her act, pointing to a 2014 Ontario court decision that highlighted the right of Canadians to publicly disavow the message conveyed by the oath. Harrilals immigration lawyer, however, worried about the repercussions. He was like, look Im not a monarchist, but you sign on to this, youre supposed to accept the good and the bad.
She held her ground. Its not like foreigners are coming to your land and changing your laws, she said. Theres been a long history of republicanism in Canada and it continues.
Polls routinely show Canadians are split on the question of whether to continue with the monarchy. One recent poll, taken in May last year after the birth of Princess Charlotte, found 39% of Canadians polled favoured cutting ties with the monarchy after the Queens death while 45% opposed the idea.
The recent spate of disavowals suggests this divide is also echoed among would-be Canadians. While some, like Harrilal, recanted their oath immediately after their citizenship ceremony, dozens of other naturalised Canadians have also joined in, disavowing part of the oath they uttered years earlier.
When Ezra de Leon became a Canadian citizen in 2002, the swearing of allegiance to the Queen seemed a pointless formality. I thought of it as saying some words and get your citizenship, said the 34-year-old who moved to Canada from the Philippines.
His opposition to the idea has since hardened. Since then I realised that it is undemocratic to force a new Canadian to swear allegiance to an unelected and unaccountable hereditary ruler who doesnt even reside in Canada, he said.
He publicly disavowed his oath last month. I posted it on Facebook, he said. I got three likes, I think.
For others, a formal disavowal is a chance to rectify a grievance dating back decades. I took the oath in the late 80s, said Peter Rosenthal, who moved to Canada nearly 50 years ago from New York City. I had great qualms about it. I found it very repugnant and didnt actually say the words.
In November, in a letter to a judge, he sought to ensure his silence had not been interpreted as acquiescence. Why should a citizenship applicant who feels that Canada should not remain a monarchy (as about half of Canadians feel) be forced to publicly assert allegiance to the monarch? he asked in his letter.
Rosenthal is the latest lawyer to take up the mantle of the more than two decades of legal battles against the oath, recently representing a trio of would-be Canadians who argued in an Ontario court that they should be able to obtain citizenship without swearing allegiance to the British monarch.
Much of their argument leaned on the idea that the oath is a relic that discriminates against naturalised Canadians. Canadians born in Canada never have to swear allegiance to the queen, unless they have certain jobs, pointed out Rosenthal.
The court disagreed, portraying the oath not as an act of pledging personal allegiance to the Queen, but instead an implicit acceptance of how Canadas democracy is structured. But it was the decision emerging from this court case that gave rise to the unusual compromise of allowing new Canadians to swear the oath and disavow it later.
Israeli-born mathematician Dror Bar-Natan, one of the three people behind the court challenge, became the first to try it out in November of last year, recanting his oath minutes after his citizenship ceremony in Toronto. The act made headlines across the country.
I got a very significant reaction, said Bar-Natan. He received hundreds of emails, evenly split between those who praising his actions and others who disagreed with his stance. Among the negative, some were people who support the monarchy for various reasons and say it in reasonable language, he said. And also a certain fraction of extremely negative, foul language, borderline threatening, antisemitic, xenophobic reactions.
Undeterred, Bar-Natan set up a website where those who have publicly disavowed can share their experiences. So far some 35 people have done so. I think there is a tremendous opposition to the idea of taking an oath to the monarchy, said Bar-Natan. Practically every other person I speak to who is an immigrant and who had to take the oath at some point tells me that they were uncomfortable doing it.
The act of reciting and then recanting the oath is a compromise, he said, but the only way he currently sees around what he describes as a hazing ritual that forces some to choose between sacrificing their values or forgoing Canadian citizenship. This is my personal solution, he said. Its not the solution though. The solution is to change the oath.
Read more: www.theguardian.com