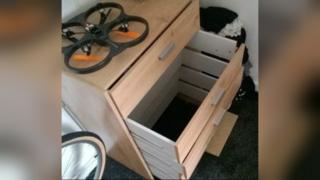 A man has been arrested after he was found hiding in a chest of drawers, police have said.
The 34-year-old, from Cambridge, was being sought by police after breaching court bail and was found by officers at an address in the city on Monday.
Cambridge Police posted a photo of the chest of drawers on Twitter and said the man was found "hiding in an unusual place".
The man was due to appear at Cambridge Magistrates' Court on Tuesday.
Read more: www.bbc.co.uk