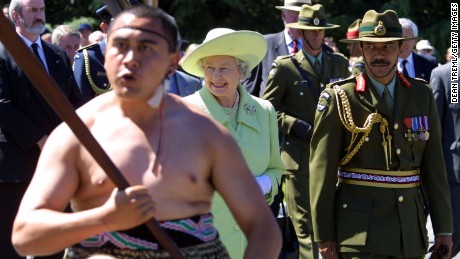 (CNN)Nine decades is a lot of time to pack in some travel, but even so, Britain's Queen Elizabeth II, who celebrates her 90th birthday on April 21, has certainly got around.
Her travel miles add up to 42 circuits of the globe, visiting nearly 120 countries and territories — and she doesn't even own a passport.
As British travel documents are issued in her name, she technically doesn't need them.
She's seen more of the world than her predecessors too.
The Queen has traveled to more than 60% of the world's 196 countries, according to royal historian Kate Williams, who carried out the research for lastminute.com.
When the Queen was born in 1926, the British "empire on which the sun never sets" was close to its territorial peak, but change was very much in the air.
Golden age
Royal travel doesn't come cheap — $7.3 million was spent on globetrotting in 2014. However, she has been known to rough it. In 1981 she stayed in a bed and breakfast in Bristol, England after being caught out in a blizzard.
READ: Cute! Photos show Princess Charlotte, Prince George together
The Queen is traveling less these days, although in 2014 she still fitted in state visits to Germany and Malta. However the Duke and Duchess of Cambridge have taken up the baton, having just returned to London after a week-long trip of India and Bhutan. After all, it's not just William who has travel in his blood — Catherine's mother, Carole Middleton, was a flight attendant.
Read more: www.cnn.com