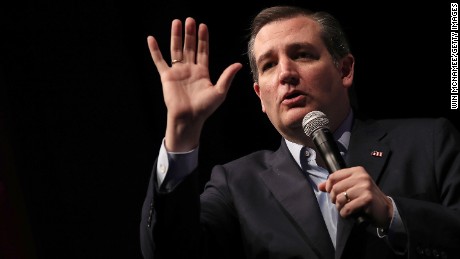 (CNN)Even by the standards of the 2016 presidential campaign, Ted Cruz has had a dramatic week.
Unusual tactical campaign moves, unforced errors on the trail and sweeping losses in the most recent round of GOP presidential primaries were the low points. Then, he won the endorsement of Indiana's governor, just days before the critical Hoosier State primary.
Here are some moments from Cruz's week that was:
Tag team with Kasich?
A pair of emails jolted the political world late Sunday night — coordinated announcements between Team Cruz and Republican primary rival John Kasich over strategies for upcoming primaries. Cruz's campaign manager said his candidate would stand down in Oregon, on May 17, and New Mexico, on June 7. In exchange the Ohio governor wouldn't compete in Indiana.
Their objective was clear — standing in the way of GOP front-runner Donald Trump. But the pact proved about as durable as Trump's statesmanlike efforts to call the Texan "Senator Cruz" rather than "Lyin' Ted." Kasich seemed to quickly backtrack and Cruz later downplayed the whole coordination idea.
"There never was a grand alliance," Cruz said Friday.
Mike Pence endorsement
After this week, it's TGIF for Cruz.
Friday, he won the endorsement of Indiana Gov. Mike Pence, a standard-bearer for social conservatives in the state. Those are exactly the kind of voters Cruz needs to turn out in order to register a campaign-saving win in the Hoosier state.
"I'm not against anybody, but I will be voting for Ted Cruz in the Republican primary," Pence said in an interview with WIBC's Greg Garrison, adding later, "I'm very impressed with Ted Cruz's devotion and knowledge of the Constitution of the United States."
Pence, however, was glowing in his praise of Trump as well.
"I particularly want to commend Donald Trump, who I think has given voice to the frustration of millions of working Americans with the lack of progress in Washington, D.C."
So, what will next week bring for Ted Cruz?
Read more: www.cnn.com