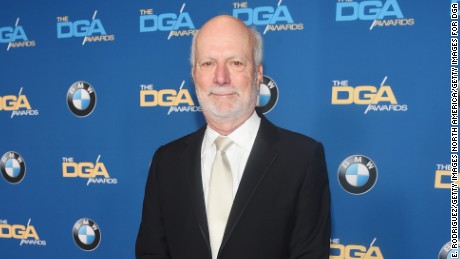 (CNN)James Burrows is magic.
For more than 40 years, whenever TV sitcoms have wanted a trusted director, the person they turn to most often is Burrows.
His credits include an honor roll of TV's greatest comedies, including "The Mary Tyler Moore Show," "The Bob Newhart Show," "Taxi," "Cheers" (237 of the 271 episodes), "Frasier," "Friends" and "Will & Grace" — 1,000 episodes in all. (The 1,000th: an episode of "Crowded" taped in December.)
He's won 10 Emmys and four Directors Guild honors, among his many awards.
On Sunday, NBC will honor Burrows with "Must See TV: An All-Star Tribute to James Burrows." The special has already earned publicity for the reunion of the "Friends" cast (though Matthew Perry joined via a pretaped segment), but any fan of television will want to watch for the appearances of other legends, including the "Taxi" gang and "Cheers" barflies.
"It was just an out-of-body experience," said Burrows in wonder during a conference call.
In some respects, Burrows, 75, was born to the business. His father, Abe Burrows, wrote or directed such works as "Guys and Dolls" and "How to Succeed in Business Without Really Trying," and James grew up a theater rat.
But TV sitcoms weren't in the cards until Burrows was in his 30s and — having spent several years directing and managing stage productions — he wrote a letter to Mary Tyler Moore, an old acquaintance who was then in the midst of "MTM's" seven-season run.
"They took a chance. I knew I had one shot," he told the Archive of American Television.
From there it all grew.
Burrows spoke to reporters in early February. Here are excerpts from the conversation:
His favorite show is …
When it comes to the classics he's directed, Burrows admits that selecting certain favorite scenes is like picking among children. After all, this is the guy who was on hand for the "Frasier" pilot, Sam and Diane's kiss and Reverend Jim's driving test.
But among the shows themselves, Burrows doesn't hesitate: It's "Will & Grace."
"That was the funniest show I've ever done. It was a fairy tale, literally and figuratively," he said, noting the unusual characters played by Sean Hayes and Megan Mullally, as well as supporting performers such as Shelley Morrison and Molly Shannon. "It made me laugh every day of the week. It made me feel young."
Most shows rotate directors. Burrows directed every single episode of "Will & Grace" — eight seasons' worth.
"It was this strange kind of phenomenon that tickled me pink every Tuesday night that we shot the show," he said.
He's against a 'Friends' revival
Reunions and reboots are golden on television — not only does the audience get to wallow in nostalgia, but the shows and networks reap big publicity (and/or ratings) from the whole thing. Look at "Gilmore Girls" or "The X-Files."
Burrows doesn't care.
"I don't think you should ever go back," he said. "(Various interests have) talked to us about a 'Cheers' reunion for years — I don't want to do one."
He adds that he has no control over "Friends" — the show was created by Kevin Bright, Marta Kauffman and David Crane — but he hopes the end was the end.
"It's what it was, and it was a treasure in the history of television, and I don't think you want to revisit that," he said.
Not everything he's directed has turned to gold
Along with "Friends," "Frasier" and the rest are a number of shows Burrows has worked on that didn't succeed. (Indeed, his very first TV job was as Burl Ives' dialogue coach on the 1965-66 flop "O.K. Crackerby," co-created by his father.)
Some are better left forgotten, but there's one ratings failure that still rankles him: a show called "The Class," a 2006-07 production about a group of third-graders who reunite 20 years later. The stars included Lizzy Kaplan ("Masters of Sex") and Jesse Tyler Ferguson ("Modern Family").
He says he often has a gut feeling about what's going to work.
"I knew from the dress rehearsals of 'Cheers,' 'Friends,' 'Frasier,' and 'Will & Grace' how special those shows were," he said.
"The Class" had the same buzz, he said, but it didn't pay off.
"I was always disappointed about 'The Class,' " he said.
'I wish I was a part of it'
Burrows can reel off a list of shows he wishes he'd had a shot at: "The Dick Van Dyke Show" — "it's one of my favorite shows," he said — "Seinfeld," "Everybody Loves Raymond" and "Curb Your Enthusiasm."
And then there is the guy who, like the MTM family of shows, sparked CBS' '70s renaissance.
"I wish I had Norman Lear's brain," he said. "I don't think like Norman but all of his shows — especially 'All in the Family' — were just groundbreaking. That was before my time, but I respect that show and wish I was a part of it."
From generation to generation
Burrows is quick to credit his inspirations, starting with his father.
Abe Burrows took his son along to rehearsals and productions, and he instilled a sense of what worked and what didn't.
"I don't think you can learn how to be funny. I think you've got to be born with that, and then it can be nurtured from there," he said.
Another influence was director Jay Sandrich, a major force on MTM shows. (Sandrich himself is the son of a showbiz veteran, film director Mark Sandrich.)
"Jay was a big part of my development," he said. "From Jay I learned to have an opinion about something — say what you feel, say what you think would make the show better. Don't just be a traffic cop. Don't just move the actors. Jay was great with that."
And what advice does he have for future directors?
"The hardest thing to do is not get your foot in the door — the hardest thing to do is be ready for the opportunity when you get the shot at directing," he said.
"Mary Tyler Moore" got him in the door, but the rest was up to him.
"You have to have confidence in yourself. You have to bring something to the dance," he said. "Because I kept contributing to it, that's why I succeeded."
Read more: www.cnn.com