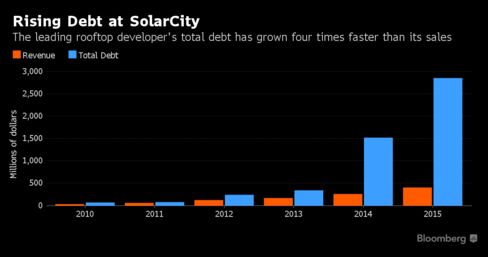 Elon Musks $2.86 billion bid for SolarCity Corp. may be as much about rescuing the company from swelling debt as creating a one-stop clean-energy powerhouse with Tesla Motors Inc.
SolarCitys debt has ballooned 13-fold in the past three years to reach $3.25 billion, and its central to SolarCitys strategy: borrow funds for rooftop systems that are mostly leased to customers. Those decades-long contracts provide slow, steady payback, while the companys liabilities keep rising.
That has put SolarCity on a path that analysts warn may be unsustainable, as financing costs increase. The company faces $1.23 billion in debt due by the end of 2017, according to data compiled by Bloomberg. A takeover by Tesla may be Musks solution, said Angelo Zino, an analyst at S&P Global Market Intelligence.
This deal has everything to do with debt. Call it a bailout, call it what you will, Zino said in an interview Wednesday. SolarCity is one bad economic downturn away from going belly up.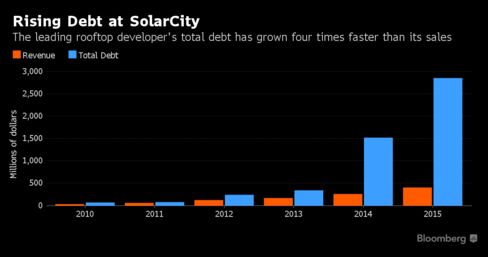 Musk disagreed with the notion that the deal is a rescue package on a conference call with analysts Wednesday.
I dont know where this bailout comes from, he said. SolarCity is headed to, I think, a very healthy place from a cash flow standpoint, and is on pace to be cash-flow positive this year.
About half of SolarCitys debt is non-recourse, meaning its backed by specific rooftop projects rather than the company itself. Musk said those loans dont pose a threat to SolarCity.
What really matters is the recourse debt, Musk said. The cash flow SolarCity is generating covers whats required with recourse debt.
Rising debt is endemic among solar companies. The industry has borrowed a total of $200 billion since 2010, according to a research note Tuesday from Goldman Sachs Group Inc. Industry-wide operating cash flows, meanwhile, declined $3 billion during that period. The pattern of rising debt and dwindling cash flow came into sharp relief in April, when the the worlds biggest clean-energy company, SunEdison Inc., filed for bankruptcy protection, listing $16.1 billion in liabilities.
Sick Solar
The industry looks quite sick, Edward I. Altman, a finance professor at New York University who specializes in corporate borrowing and debt, said in an interview.
While SolarCitys sales have tripled in three years, it has posted losses in all but three quarters since its 2012 initial public offering while investing heavily in future growth. Its negative cash flows have grown worse, while its interest payment obligations keep rising.
Were talking about two cash-negative companies merging, said Duncan Meaney, a financial adviser and portfolio manager at the Social Equity Group. It does raise the suspicion that this is a way to bail out Solar City, which is a fairly significant money-losing operation. Meaney has previously bought Solar City green bonds for clients and traded the stock. Many of his clients hold Tesla shares.
Shares Battered
Solar shares have been battered industry-wide this year amid questions about growing debt and the viability of the companies business models. A Bloomberg index of 20 major solar companies has slumped more than 30 percent this year, performing worse than coal stocks. SolarCitys biggest competitor Vivint Solar Inc. is down by two-thirds and the No. 3 rooftop company Sunrun Inc. has dropped by almost half. And SolarCity has slumped by more than half.
Despite the falling share prices and rising leverage, residential solar has tremendous growth potential. Total U.S. installations are expected to reach 13.1 gigawatts by the end of 2018, more than double the amount now, according to Bloomberg New Energy Finance.
Even so, its unusual for an emerging industry to be so debt-laden, said Michael R. Roberts, a corporate finance professor at the Wharton School of the University of Pennsylvania. Companies in rapid growth mode often have little trouble raising enough equity to fund their investments.
This isnt the case of an industry on the decline, Roberts said in an interview. This is a sector that is growing quickly but perhaps just relying too heavily on debt.
Debt isnt necessarily bad for energy developers, said Pavel Molchanov, an analyst at Raymond James Financial Inc.
Power project developers of all kinds have always relied on debt, Molchanov said in an e-mail.
Solar Lease
SolarCity, with more than 2.1 gigawatts of systems in operation, pioneered the residential lease, which has helped make residential rooftops the fastest-growing segment of the U.S. renewables industry.
In recent months, SolarCity has shifted its strategy to focus less on rapid growth and more on finding the most profitable customers. The goal is to become cash-flow positive in the fourth quarter. As part of that effort, the company introduced in June a loan program for customers who want to own their systems instead of lease, a model that lets SolarCity grow without adding more debt to its balance sheet.
There are still significant questions about SolarCitys strategy, S&P Global Market Intelligences Zino said.
This is a company that, when you look at their business profile, it is fraught with risk.
Read more: www.bloomberg.com