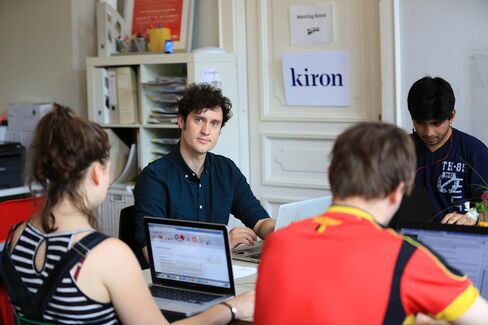 Sajida had just begun her university education at the Engineering Technical Institute in Damascus when the bombs began to fall. It was November 2014, and the 19-year-old fled with her family to Turkey, where she worked in a clothing factory, a Syrian restaurant, and a library before finally getting the chance to travel to Greece.
The water was up to my neck, she says, recounting a struggle to reach the dinghy that would take her across a narrow strait to the island of Lesbos. Alternating among trains, buses, and simply walking, Sajida and her older sister eventually made their way to Germany. As she describes her trek, Sajida is brutally concise about the ordeal refugees like her must endure, particularly when braving unforgiving seas. It was terrifying, she says.
Once Sajida reached Western Europe, she had another problem. A year or more may pass before refugees can attain the legal status and language fluency needed to continue their education at a German university. In the meantime, they must wait to complete schooling that, in her case, began more than a year ago and 1,700 miles away.
A group of three German friends in their twenties saw this languishing group of potential students as an opportunity. They created Kiron, a free online learning platform especially for refugees. Sajida (who, like other refugees, asked to be identified only by her first name to protect her family) is one of more than 1,250 students who signed up for its classes, which are taught in English.
Kirons founders have raised more than 3 million ($3.3 million) from a crowdfunding campaign as well as from private and corporate donors ranging from Google Inc. to BMW. The trio aims to fill a gap of otherwise wasted timeduring which refugees can develop skills or earn degrees that could help them acclimate to their new country, or prepare for the day when they can return home.
Kiron, which means ray of light in Sanskrit, combines online college courses developed by U.S. institutions including Harvard University and the Massachusetts Institute of Technology with volunteer professors and mentors who can be thousands of miles away. They grade assignments, answer questions, and keep students on track. For those housed in refugee camps without internet connections or computers, Kiron is setting up learning hubs, which are basically remote classrooms, with donated laptops and internet access.
While other programs exist to train refugees for jobs or in the German language, Kiron is unique because it enrolls them in for-credit classes that can lead toward a college degree, says Tim Goebel, executive director for a foundation started by Hans Schoepflin, a venture capitalist and Kirons biggest single donor.
They are tackling a problem that nobody else has: how to integrate refugees into the university system, Goebel says.
Sajida, who honed her English by watching American television shows like So You Think You Can Dance, jumped at what Kiron has to offer. Im super happy to be studying, she says, dressed in a white hijab and a gray leopard-print blouse as she chats happily near one of Berlins main thoroughfares, Unter Den Linden. I feel like Im back on track.
Refugees dont need motivation
Kirons course offerings are easily accessed on the web and can accommodate large numbers of participants. Developed in the U.S. several years ago, these massive open online courses (or MOOCs) provide a way for anyone to experience a college course, which can be useful on a rsum or simply complement a current job. But only about 15 percent of students who sign up for MOOCs finish them, according to research by Katy Jordan, a Ph.D. student at the Open University, an online school based in the U.K.
Kiron has sought to change this dynamic, working with brick-and-mortar schools to translate these courses into credit that could be applied toward a degree. Refugee students are far more diligent than most, says Markus Kressler, Kirons 26-year-old co-founder. If you have no alternative, its a different situation, he says.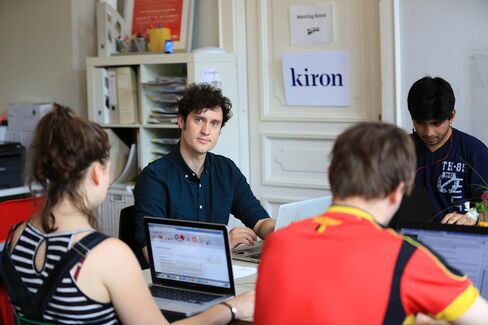 Kiron envisions its students doing two years of course work, then transferring to one of its partner universities. While the majority of students are based in Germany, refugees can take classes from anywhere, as long as they have internet access. Kiron already has users in Turkey, Jordan, and even Sri Lanka.
Each of its four majorsbusiness, engineering, computer science and social scienceshas modules of both suggested and required classes. Kressler says students appreciate the list of recommended courses and that Kiron has enlisted curriculum experts to help them select classes. Sajida, whos studying engineering, is beginning with Applications in Engineering Mechanics, for instance.
Sitting in a garden behind what was once the Soviet House of Culture, Kressler, who has dark curly hair and wears a black leather jacket, explains how Kiron can play a critical role in helping the newly arrived make their way in Germany. Inside, his staff and volunteers huddle around large white tables, tapping away at laptops amid coils of electrical cords and stacks of pizza boxes. On the wall is a poster for Kiron that shows a photo of a lifejacket, the grim emblem of the refugee crisis, captioned life-saving tool, and one of a mortarboard and diploma titled life tool.
Helping refugees transition into college students is what Kiron is all about, Kressler says. When you meet people who have goals and dreams like you, who have the same skills and abilities as you, but have no chance to live up to their potential, its hugely unfair, he says, rolling a cigarette. Its just a coincidence to be born in a safe environment like Europe, where we take for granted things like free education.
Biggest immigration wave since World War II
Over the past two years, the continent has been flooded by waves of migrants fleeing upheaval in Syria, Iraq, and other Middle Eastern countries, as well as Africa and Asia. Longing for safety and better prospects, some 1.2 million asylum seekers traveled by sea in an effort to reach Europe; several thousand have perished. In all, there were more than 21 million refugees around the world in 2015, according to the United Nations High Commissioner for Refugees, the largest number since the end of World War II.
Whether, and how, to integrate those refugees into European society has roiled politics across the continent. With Europe reeling from terrorist attacks in Paris, Brussels, and Nice, and the continents economic recovery muddled and inconsistent, the influx of refugees has fueled anti-immigrant sentiment and lent support to right-wing parties such as Germanys AFD, or Alternative for Germany, and Frances National Front. Immigration was also a key theme in the U.K.s vote last month to leave the European Union, with advocates of the so-called Brexit raising the specter of a country overrun with foreigners. Even in Germany, arguably the most welcoming of this recent influx, attacks like the one this week by an Afghan refugeeon a passenger train have sown doubt about immigration policies.
Germany has taken in far more refugees than any other European countrymore than one million in 2015and several hundred thousand more this year. While Chancellor Angela Merkel has promised to absorb them all, the countrys legal system has been overwhelmed. Refugees must follow a long process before they can obtain asylum, during which they are unable to work or study.
Gaining admission to German universities presents even more obstacles. Refugees need to speak German fluently enough to follow college-level work. They also need to have official transcripts for their high school studies and any college classes theyve already taken, documents often impossible to obtain from the countries theyve fled. Those who dont have transcripts have to attend a remedial school and pass an exam before they can apply to German colleges.
Clearly, opening up higher education to refugees is crucial to helping them integrate. But it also serves to train them for the day, if it ever comes, when they may return home to rebuild. An entire generation of future Syrian academics, leaders, and activists could be lost if smart people in their teens and twenties are stuck in refugee camps unable to study, says Florian Becker, managing director of U.S.-accredited Bard College Berlin, which is partnering with Kiron.
"These elites are important," he says. "If we dont make this work, the damage could be huge."
So far, about 18 universities have agreed to give students credit for their Kiron courses, provided they meet each individual schools entrance criteria. Among them are more than a dozen German universities, including the top engineering school RWTH Aachen; Sciences Po in Paris; Uninettuno in Italy; and two English-language schools in Germany: Turkish-owned BAU Hochschul and Bard College Berlin. If a Kiron student aims to attend Bard Berlin, a tiny, selective private college of about 170 students, Becker hopes to have him or her follow some of the same courses Bard students do, overseen by a Bard professor.
First student from Kiron
This fall, Bard Berlin plans to enroll its first Kiron student, one of four Syrian refugees who won a full scholarship. The Kiron student in question, Ahmad, is a 24-year-old who fled the Assad government stronghold of Banias only days before soldiers arrived at his home and arrested his brothers.
"It wasnt safe," he says. "There is no future there, even if you are not bombed."
Sitting in the leafy backyard of Bards cafeteria, a space lined with rose hip bushes, Ahmad described his odyssey to Cyprus, and then Turkey, where he spent several years working in a relatives import-export business that later closed. He arrived in Germany last October with the tide of refugees, traveling mostly by train through the Balkans and taking taxis across borders. His parents, a former oil worker and a gym teacher, had already arrived as refugees, settling in Leipzig.
After learning about Kiron through social media, Ahmad threw himself into studying, completing 21 courses such as International Law, Paradoxes of War and Understanding Economic Policymaking in less than a year. His enterprise was noticed by one of Kirons professors, who recommended him for the scholarship.
Ahmad, who wrote an essay about the historical context of the Syrian conflict as part of his admissions package, is interested in politics or working at a nongovernmental organization after college. "I have goals related to my country," he says.
Both he and Sajida dont rule out a return to their home country, provided its safe to do so, once they graduate. "It would be great to have something where I could help the country where Im living," she says, "whether its here, or in Syria."
Giving them what they want
The idea for Kiron came about in the fall of 2014. Kressler, who holds a degree in psychology, was counseling refugees in Berlin. "I thought every day about how horribly difficult it is to get through all the bureaucratic paperwork," he says. "Its nearly impossible for refugees to enter the university system."
Kressler, who had taken a couple of MOOC classes while studying at San Diego State University, joined with his friend Vincent Zimmer, 26, a Ph.D. student in economic psychology, who had worked with Syrian war refugees in Turkey. They enlisted a third friend, Christoph Staudt, 22, to develop the web site. By advertising their idea on Facebook groups such as Dubarah, a global network where expatriate Syrians share information about jobs, education and life in their adopted countries, Kiron collected the names of several thousand potential students. It then surveyed 1,000 of them as to what they wanted in an online school, settling on the four study tracks.
About half of Kirons students are from Syria, with the rest having come from countries including Somalia, Nigeria and Afghanistan. The largest contingent are in their mid-20s, but ages range widely because some had already finished their studies in their home countries while others, like Sajida, were just starting. Sajida is unusual for Kiron because shes female: the vast majority of those whove signed up are male, but Kiron is seeking to recruit more women.
Crowdfunding leads to corporate sponsors
Last summer, the three Kiron co-founders were ready to raise funds for a pilot project just as the flow of refugees turned into a torrent. As Merkel made her promise to take in a million people, Kiron began looking online for donations to fund "scholarships" that would provide free schooling. Suddenly, everyone wanted to help: Instead of the 120,000 euros originally sought, the crowdfunding raised four times that. "People reacted incredibly," Kressler says.
In addition to connecting with universities and volunteers, Kiron received support from big corporate names including Bertelsmann, Vodafone Group Plc., Akzo Nobel NV and Capgemini SA. While Kressler and a few other staffers are paid small salaries, most of the work is done by volunteers.
The largest single donor has been Schoepflin, the venture capitalist, who was once an executive of The Price Co., the precursor to Costco Wholesale Corp. His foundation promised 1.5 million euros over the next three years and is also providing Kiron with management coaching. Schoepflin describes the Kiron project in venture capital terms, talking about how it should scale up after the current, proof-of-concept stage. "The whole refugee crisis is not going to go away," he says.
Kressler emphasizes that the organizations business model will remain non-profit. "The more money we have, the more services we can provide to our students," he says.
Read more: www.bloomberg.com