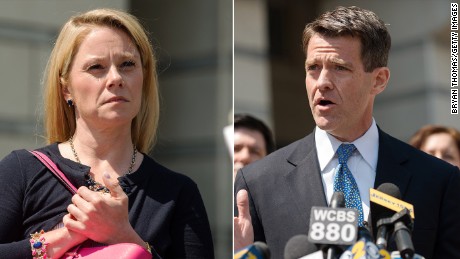 (CNN)Jury deliberations are set to resume Tuesday in the politically charged criminal case known as Bridgegate.
The federal jurors, who heard more than a month of testimony, got the case Monday and deliberated until 3:30 p.m.
Bridget Kelly, New Jersey Gov. Chris Christie's former deputy chief of staff, and Bill Baroni, former Port Authority deputy executive director, are charged with nine criminal counts, including conspiracy and fraud, related to their alleged involvement in the September 2013 lane closures on the Fort Lee side of the George Washington Bridge.
Federal prosecutors say the traffic-snarling lane closures were a political plot designed to hurt the Fort Lee mayor, who did not support Christie's re-election bid.
One month before the lane closure, with Christie's re-election campaign in full swing, Kelly texted David Wildstein, a former Port Authority official and a political ally of Christie: "Time for some traffic problems in Fort Lee."
"Got it," Wildstein replied.
Wildstein avoided trial by pleading guilty to one charge of conspiracy to commit fraud on federally funded property and one civil rights violation.
Christie maintained he had no knowledge of the lane closures and fired Kelly. Two months after the emails went public, lawyers retained by Christie's office released a Bridgegate report that exonerated Christie.
US Attorney for New Jersey Paul Fishman, the federal prosecutor in the case, told The New York Times at the time of the indictment that Baroni and Kelly each face a maximum sentence of 86 years. It was more likely they would receive up to three years if convicted, Fishman said.
Read more: www.cnn.com