From his early days in The Saint, through his series of 007 movies, to his post-Bond semi-retirement, Roger Moore always lit up the screen, however dodgy the material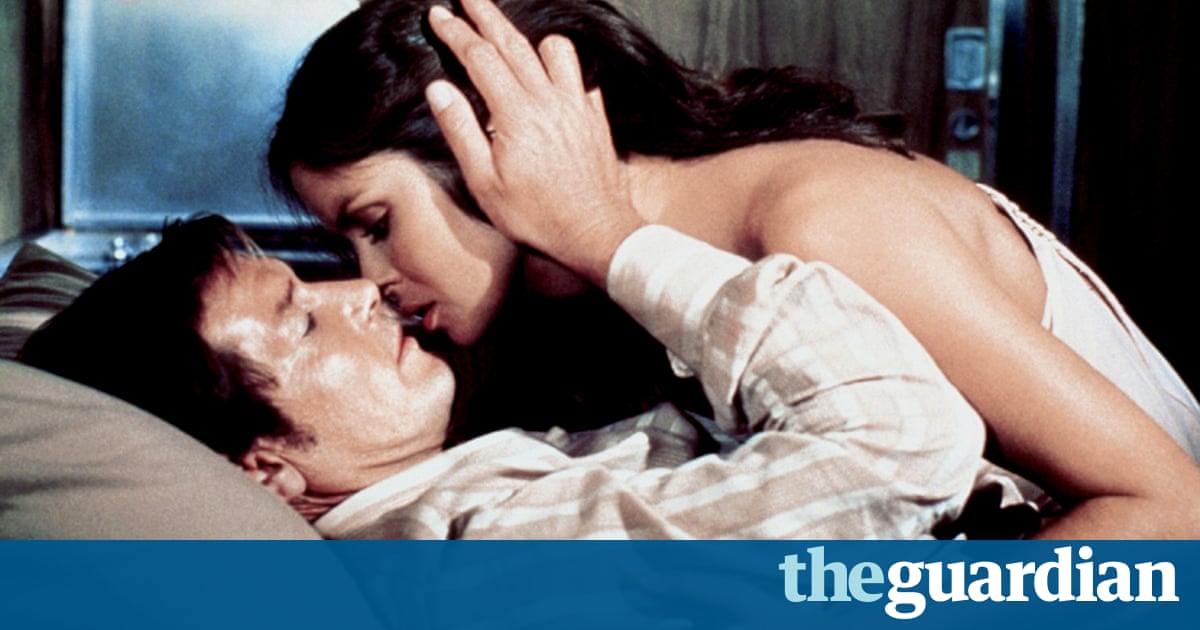 The Saint (1962 and 1969)
Moore had an extensive TV career before Bond: Ivanhoe, The Alaskans, Maverick. Most extensively, he played Simon Templar, the Saint of Leslie Charteriss novels, starting out in boyish black and white and ending in slightly heavier colour.
The clip above contains scenes from the first episode of The Saint, The Talented Husband, as a 34-year-old Moore takes his bow in the role: curious mid-Atlantic accent, halo, but no upwards glance. (Also included, Shirley Eaton, two years before she was found dead on Sean Connerys bed in Goldfinger.) Seven years later and Moore, now into his 40s but still modelling a piled, half-ducks arse 50s hairdo, is test-driving a racing car through the English countryside. Someone has been at the steering; Templar meets tree. As a supporting character puts it: For a moment it certainly looked like curtains for the impetuous Simon Templar.
Its not cue wry remark, halo, eyebrow, now trademark look heavenwards but it is for the show. The World Beater was Moores last episode. In 2012, he had a cameo in a pilot for a reboot. It didnt become a series.
Mainly Millicent (1964)
Skipping the downright odd early 70s Tony Curtis two-hander The Persuaders other than to link the immortal opening titles and John Barrys theme music, of course heres another downright oddity from Moores television days: Moore playing James Bond for the first time on Mainly Millicent, a comedy vehicle for Millicent Martin in the same year as Goldfinger, nine years before Live and Let Die.
The comedy of Bond meeting Sonia Sukhova, Russias master spy on holiday hasnt aged very well, not least because the live taping means even exchanges as limp as the following fall victim to glitches in delivery and timing:
Bond/Roger: What will you have?
Sukhova/Millicent: Vodka.
Bond/Roger: Communist. Ill have a whiskey.
Sukhove/Millicent: Imperialist.
Still, like many things in Moores career, its an engaging curio. Like many other things, its also glorious evidence of his willingness not to take anything too seriously.
The Man Who Haunted Himself (1970)
First of all there is the possibility, however unlikely, that there is an actual double dogging your footsteps.
Could there be another explanation?
There could.
Freddie Joness Dr Harris sums up, succinctly and Scottishly, this magnificent 1970 thriller, in which Moore plays Harold Pelham, a businessman dogged and driven towards madness by a doppelganger.
The glories of the film, which Moore regularly credited with being the only one in which he was ever allowed to actually act, are manifold. The clip here is the trailer. From the opening sub-Hitchcock cut, from eyeball to sun to billiard ball, its a work of bizarre period art. Questions blaze through the screen in an analogue font, all Cannon-Cinemas-advert-for-convenient-local-curry-house red. The subject of the questions is not Harold Pelham but the star himself: Who is chasing Roger Moore? Who is taking over Roger Moore? Who are the women in Roger Moores life?
Who indeed. Watch it.
Live and Let Die (1973)
Into Bond. In the beginning, Moores 007 seems still part-Connery, guarded, watchful, relatively conservatively dressed. And then, as he pads in blazer and slacks around the back room of a Harlem club how did they know hed sit at the table that swivels? Do they all do that? and starts flirting with Jane Seymours Solitaire, comes a deathless cinematic exchange.
Mr Big: Is this the stupid mutha that tailed you uptown?
Bond: There seems to be some mistake. My name is
Mr Big: Names is for tombstones, baby. Yall take this honky out and waste him, now.
Bond: Waste him [Infinitesimal pause, ever-so-slight raising of eyebrow] Is that a good thing?
Thats not Connery. Its pure Moore, for the first time in this third canonical incarnation of Ian Flemings character. From here until 1985, were in safe hands. To prove it, Moore carries on flirting with Seymour while hes being taken outside to be wasted.
Gold (1974)
Not a trailer but a sample of film and score, the former a 1974 movie released between Live and Let Die and The Man With the Golden Gun and based on a novel by Wilbur Smith, the latter by Elmer Bernstein and including a superb title song performed by Jimmy Helms.
Gold is a thriller that does what it says on the tin. John Gielguds evil gold-dealing capitalist orchestrates a scheme to raise the price of gold by flooding a goldmine and killing goldminers, only to be foiled by Moores Rod Slater, an amoral goldmining engineer whose eye is taken off the ball, or ingot, by an affair with the goldmine bosss wife, who is played by Susannah York. Theres a lot of talk about gold, and how it corrupts mens souls.
Its a ludicrous film, shot in apartheid South Africa, its hero and love interest not in the first flush of youth. It also inspired a follow-up pairing of Moore and York, That Lucky Touch (1975), that in Moores somewhat understated words years later, didnt really work as a comedy. There are very many reasons why Gold should be awful as many of Moores non-Bond films of the 70s and 80s sadly are. And yet, given that from Moore down to the best boy everyone involved knew precisely how to do their job and make a decent, workable film its not. Its really rather good.
The Spy Who Loved Me (1977)
Im going to commit heresy quite possibly, in the words of Alan Partridge, Im going to get Bond wrong. But the scene that defines The Spy Who Loved Me is not the opening one, the ski chase that ends with the flight off the cliff and the tumbling, silent fall and the flowerlike unfurling of the Union Jack parachute to the first bars of Nobody Does It Better. Its the last one, in which Moore necks with Barbara Bach in a plush submarine escape pod and delivers one of his better in the sense of utterly cringeworthy 40 years later Bondian one-liners.
Bond, what do you think youre doing?
Keeping the British end up, sir.
I was about seven when I first saw The Spy Who Loved Me, round at Philip Holmess house on an illicit VHS. Theres a scene not long before this one, on the American submarine when Agent XXX is taking a shower in the background, where you can almost see a nipple. Bond is about sex as well as violence and to a seven-year-old boy in 1985 that was almost enough, appropriately given the fate of Kananga in Live and Let Die, to make my head explode.
(For a much, much better discussion of how Bond is really for kids and how he nonetheless maintains his grip on men who should know better, read Simon Winders The Man Who Saved Britain.)
Theres also some lingering Connery here, or maybe the last death rattle of Ian Fleming himself: Maybe I misjudged Stromberg. Any man who drinks Dom Perignon 52 cant be all bad.
For Your Eyes Only (1981)
After the sex, the other half of the equation: the violence. Moore could do action, even if he had to be helped more and more by deft and effective editing. Here, in the half-light of a precipitous Greek island, Bond essentially fights a car, which is being driven by the evil biathlete Eric Kriegler. The scene, played out in twilight blues and blacks, remarkably murky by modern action standards, is tense and thrilling, intercut with Bonds heavy breathing as he hurls his now 53-year-old body up stone steps and down stone passages and out of the path of Krieglers hurtling motor.
One good gunshot and the car ends up on the edge of a cliff, its driver wounded and scrabbling. Bond appears at the passenger side window.
You left this with Ferrara, I believe, he says, tossing in a pin found on the body of his Italian contact.
And then he kicks the car off the cliff.
For Your Eyes Only was an attempt to return to the grit of Connery. Its star, four films in and coming off the Star Wars-chasing lunacy of Moonraker, wasnt comfortable. It shows: the film is a bad fit for itself, nearly but never quite very good. That seems very British. Which is one reason I love it.
Bonds pay-off line after dispatching Kriegler He had no head for heights is about right for the film. Meaning, its not a patch on Connerys comment after killing a henchman by chucking an electric fan in a bath in Goldfinger. In fact, its shocking.
A View to a Kill (1985)
More! shouts Max Zorin as Bond hangs from the mooring rope under the villains corporate blimp, atop the Golden Gate Bridge. More power! More!
Its all very meta after all, when youre hanging off a slow-moving dirigible in a supposedly high-octane finale, you must wonder what more you can do. No wonder Moore couldnt take any more, and A View to a Kill turned out to be his final fling in the role.
Its a ludicrous film, its star far too old and Bond girls Tanya Roberts (28 years younger than him) and Grace Jones (4,000 times weirder than him) exposing the fact with aplomb. Theres also a story, told by Moore, about how he didnt get on with Jones at all and neither she with him, leading up her disrobing for their sex scene to reveal an enormous and rather frightening dildo.
And yet, of course, I love A View to a Kill. Christopher Walken is a fantastic bad guy Moore didnt like the laughing machine-gunning of his miners, said it wasnt Bond, but to an 80s kid it seemed the true depth of pitiless evil. And Zorins scheme, to flood Silicon Valley and corner the consumer electronics market, is essentially Gold redux. And theres even, in this fantastic final action scene, with real stuntmen really that high up, and good, tough work by Moore, weird pathos in the anguished cry of Dr Carl Mortner, the guy who made Zorin in a tube, as the villain falls to his death. I know the chaps a Nazi, but when I was a kid that got me. Now Im a father and it still does, every time.
The Muppet Show (1980)
Who are you?
Well Im tonights guest star, Roger Moore.
Thats funny, I couldve sworn you were that James Bond fella from the movies.
Pops the doorman says it for everyone Moore ever met, including the young child who became a scriptwriter and whose story of meeting Moore at an airport in 1983 and then on set for Unicef 20 years later did the rounds on Twitter on Tuesday. Roger Moore was a good sport, in on the joke, a charity worker and an anecdote-teller, ready to be assaulted by Miss Piggy, to trade lame jokes with Kermit and to talk-sing If I Could Talk to the Animals surrounded by muppet sheep, cows and gnus while fending off attacks from muppet spies.
I saw Moores Muppets appearance as a kid, on rerun. Later in the 80s I saw him in puppet form on Spitting Image, raising one eyebrow, then the other. I always thought it rather cruel but Moore himself liked the joke. He always did, and was always ready to tell the old jokes once again. In that sense, Im leaving the Muppet Show appearance here to symbolise the post-Bond years, all 32 of them. No Spice World (1997). And certainly, certainly no Boat Trip (2002).
Michael Winners Memorial Service (2013)
I hope this isnt cheating, but given Moores output in the last 10 or 15 years mostly anecdotes, often told in provincial theatres, sometimes told to Piers Morgan I couldnt think of a fonder or sadder final clip.
In The Trip to Italy, Rob Brydon and Steve Coogan impersonate Moore and his great friend Michael Caine. There are funnier scenes: in this years Trip to Spain, Brydon turns his Moore up to 11 and then carries on, amping it up to about 18. But their conversation about Michael Winners memorial service rings with a heavy knell today.
Michael Caine and Roger Moore were sat there, the two of them, says Brydon, as mournful piano plays. And they looked old. Because they are old.
He switches into Caine: I dont think weve ever been this old, Rog.
Coogan, as Moore, responds: Weve had a pretty good innings, though, Michael.
Whats the matter, Roger?
I havent the time, Michael. I really havent the time.
Ill tell you the time, Rog. Its getting late. You take my meaning?
Ah, Michael.
On Tuesday, as news of Moores death spread, Michael Caine issued a statement.
I am devastated today at loosing one of my oldest and closest friends ROGER MOORE, he wrote. My world will never be the same again.
Read more: www.theguardian.com