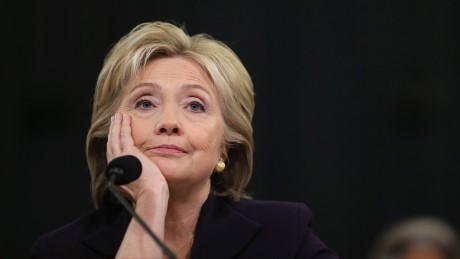 Washington (CNN)The State Department released the very last of Hillary Clinton's work-related emails Monday, capping off a nearly year-long process that began when The New York Times revealed that Clinton had been exclusively using a private server to conduct official business as secretary of state.
For the State Department, the Clinton campaign and journalists covering the story, the releases have been at various times tedious, contentious, frustrating, revealing and opaque.
Here's what we've learned so far, and what remains unanswered.
All the emails are out, but the controversy isn't over
Monday's final release marks the end of a major effort by the State Department's Freedom of Information Act office, which had to review more than 52,000 pages of the former secretary of state's emails in the past year before releasing them to the public.
Clinton called for the emails to be released when news of her unusual communications set-up was first revealed. The State Department was then ordered to provide them to the public on a rolling basis by a federal judge in a FOIA lawsuit.
But it would be premature for those staffers to celebrate, since the department is still in the midst of processing dozens of related requests.
The State Department is furthermore being sued for the emails of top aides, and for the tens of thousands of emails Clinton deemed personal and didn't turn over for review.
At a hearing last week in one such lawsuit, U.S. District Judge Emmet Sullivan said he's considering asking the State Department to subpoena Clinton, and aide Huma Abedin, in an effort to learn more about those emails.
And Clinton's emails continue to get scrutiny beyond the State Department. On Monday, State Department Spokesman John Kirby told reporters one email is being withheld from the public in full at the request of law enforcement.
Kirby would not comment on the content of the email, but he emphasized it is not classified.
Clinton's server is also the subject of an FBI investigation, which has allowed her Republican opponents on the presidential campaign trail to raise the specter of possible indictment.
In an interview Monday with Fox News, Attorney General Loretta Lynch said the investigation is "being handled like any other review that we do into how any agency has handled classified information," but she had no updates on the time frame for its completion.
"What's most important is to follow the facts, follow the law, and come to an independent conclusion as to what may or may not have happened," she said.
Classification is messy
Much of the conversation surrounding Clinton's use of a private server for State Department business has revolved around the question of whether she took adequate measures to safeguard sensitive information.
Clinton and her aides insist none of the emails she sent or received were marked as classified at the time they were sent, but more than 2,101 have been retroactively classified during the State Department-ledpre-release review process.
This includes 22 emails upgraded to Top Secret — the highest level — and withheld by the State Department in full.
Those emails in particular are the subject of intense scrutiny, sometimes leaving the State Department and intelligence community at odds.
Last month, a leaked letter from intelligence community Inspector General I. Charles McCullough III revealed the existence of "several dozen" cases of classified information originating from intelligence agencies, some of which, they said, should have been considered classified during Clinton's tenure.
Those documents included information on so-called "Special Access Programs," a highly sensitive subset of information off limits even to most Top Secret clearance holders.
Clinton's campaign has waded into the fray, suggesting the upgrades and intelligence agency disparities are the result of "over-classification run amok." Clinton campaign spokesman Brian Fallon has also blamed political operatives in the inspector general's office and on Capitol Hill for leaking information about the normally secretive review process.
Not immune from the controversy, several emails sent by Kerry have now been upgraded to classified, including a few in Monday's batch.
Perhaps the most controversial member of her kitchen cabinet was Sidney Blumenthal, a friend and confidant who sent her hundreds of emails on both policy and politics, even though he was blocked by the Obama administration from joining her official team at the State Department.
Critics have wondered why Blumenthal had such direct access to, and perhaps influence over, Clinton, when many officials in her own department didn't have her personal email address.
Clinton has dismissed the extent of Blumenthal's influence, calling the emails "unsolicited," even as she thanked him repeatedly at the time for offering his perspective.
"I'm going to keep talking to my old friends, whoever they are," Clinton said during a May press conference in Iowa. "He's been a friend of mine for a long time. He sent me unsolicited emails, which I passed on in some instances, and that's just part of the give-and-take."
Unsurprisingly, Clinton emailed family members as well. And it was an email to daughter Chelsea Clinton on the night of the attack on the U.S. consulate in Benghazi that brought Clinton pointed questions when she testified before the House Select Committee on Benghazi in November, as some lawmakers wondered why she attributed the attack to "an Al Queda-like group" in the email while publicly suggesting protesters played a role.
Clinton's email set-up was discussed by staff
Despite her unusual decision to set up a private email server at her home, Clinton's communications often display a lack of savvy when it comes to technology.
In a June 2010 email to Reines, Clinton is excited to learn that her new iPad (called the "hPad" by her loyal staffers) has arrived, and asks, "do you think you can teach me to use it on the flight to Kyev next week."
And even as she elected not to use a state.gov account, Clinton expressed surprise when other staffers did the same.
At one point in 2011, Sullivan passed along insights from a State Department employee using a personal account, prompting Clinton to ask, "Who does he work for now?"
When Sullivan said the man worked for the State Department, Clinton responded, "I was surprised that he used personal email account if he is at State."
Other emails reflect Clinton's frustration with the State Departments communications systems, and the limits presented by the very systems meant to protect classified information.
In one such email, Sullivan tells Clinton a statement by Blair was put on the classified system "for reasons that elude me," prompting Clinton to reply: "It's a public statement! Just email it."
"Trust me, I share your exasperation," Sullivan replied. "But until ops converts it to the unclassified email system, there is no physical way for me to email it. I can't even access it."
On a separate occasion, Clinton and Sullivan exchange emails on a set of "tps" — presumably talking points, which he's trying to send to her on a secure fax line.
"If they can't," Clinton replies, "turn into nonpaper w no identifying heading and send nonsecure."
There's no indication whether the talking point were classified, but the exchange led to criticism from Republican Iowa Sen. Chuck Grassley, a frequent Clinton critic, who called the chain "disturbing" and asked the former secretary to "come clean."
Additional emails, on which Clinton was not copied, also shed light on how her email set-up was viewed at the State Department.
A set of emails released to the website The Daily Caller last month, for instance, show that some officials suggested providing Clinton with a State Department Blackberry, which Huma Abedin resisted.
"Let's discuss the state blackberry, doesn't make a whole lot of sense," she replied.
There were also discussions about setting up a "stand-alone PC" for Clinton that would allow her to access her personal emails at the State Department.
In an email exchange later obtained by the conservative legal watchdog group Judicial Watch, Under Secretary for Management Patrick Kennedy tells Mills the computer "is a great idea."
Ultimately, State Department officials say the computer was not set up. It's unclear why the idea was ultimately nixed, but it might relate to Clinton's lack of computer knowledge, as relayed in a later email.
"I talked to Cheryl about this," Lewis Lukens, then a deputy assistant secretary of state, writes. "She says a problem is hrc does not know how to use a computer to do email — only [Blackberry]. But, I said would not take much training to get her up to speed."
Read more: www.cnn.com