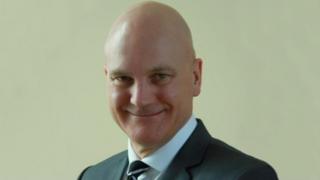 Paul Broadbent, the head of the UK's anti-slavery agency, has died aged 54.
His sudden death was described as "a shattering tragedy" by a spokesman for the Gangmasters and Labour Abuse Authority (GLAA).
Mr Broadbent worked at Nottinghamshire Police and South Yorkshire Police before taking over at the GLAA.
Crime Minister Victoria Atkins said he was "passionate, innovative and determined to tackle labour exploitation and modern slavery".
Mr Broadbent died at his home in South Yorkshire on Wednesday. No details have been released about the cause of his death.
More stories from around the East Midlands

What is the Gangmasters and Labour Abuse Authority?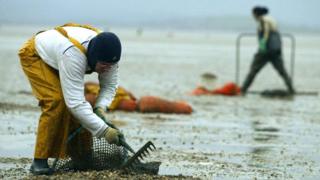 The GLAA is a non-departmental public body governed by an independent board
It was formed in 2005 in the wake of the Morecambe Bay cockle picking disaster when 23 Chinese workers drowned
It regulates businesses who provide workers, making sure they meet legal employment standards
These businesses, which could be working in the agriculture, horticulture, shellfish gathering or processing and packaging industries, all need a GLAA licence

The Nottingham-based GLAA aims to stop workers across the country from being exploited by unscrupulous employers.
In a statement, the agency said he was "a champion for the vulnerable".
"He devoted more than 30 years of his life to public service in a career that began as a young police officer on the beat in Cumbria and which saw him rise through the ranks to Assistant Chief Constable with Nottinghamshire Police," agency spokesman Ian Waterfield added.
Mr Broadbent was "a warm, funny, generous man, who cared deeply for his colleagues", he said.
"He believed passionately that the scourge of modern slavery and labour exploitation can be defeated by partners and organisations working together."
The National Crime Agency also tweeted: "Our thoughts and condolences are with the family and friends of Paul Broadbent. He made an outstanding contribution to the effort to tackle modern slavery and will be greatly missed."
Read more: www.bbc.co.uk