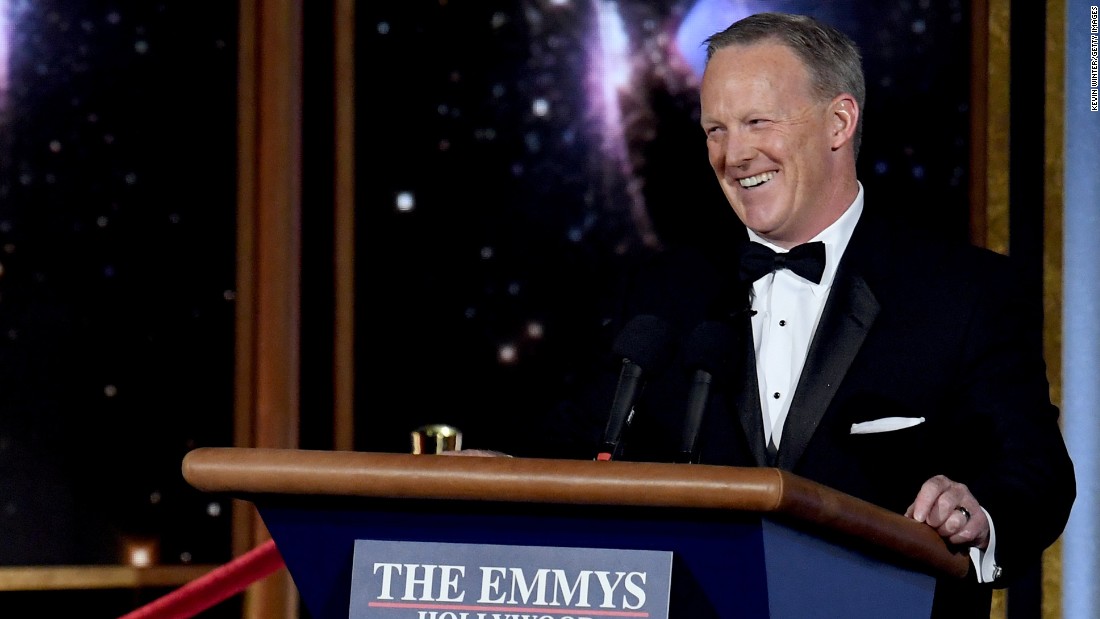 (CNN)Ever hear anybody use #EmmySoWhite as a social media handle? Me neither. And, especially after last night's 69th annual rendition, you never will, not in this time continuum.
For this year's Emmy ceremonies, in ways perhaps more groundbreaking than their 68 predecessors, had their arms wide open to women and minorities, as icons, presenters and, most of all, winners.
Two feminist dramas — HBO's "Big Little Lies" and Hulu's adaptation of Margaret Atwood's "The Handmaid's Tale" — swept most of the awards in their categories, while "Atlanta," FX's dry, deadpan comedy surveying that city's hip-hop scene, scored major wins for its co-creator and star Donald Glover.
Another African-American actor, Sterling K. Brown won the award for Outstanding Lead Actor in a Dramatic Series for his work in NBC's generation-spanning family saga, "This Is Us."
These Emmys, from start to finish, clearly were the all-inclusive Emmys and everyone, even the losers, were made to feel welcome at the party.
Well … almost everyone.
"At long last, Mr. President, here is your Emmy!" Alec Baldwin proclaimed upon receiving his Emmy as Best Supporting Actor in a Comedy Series for his
weekly send-up of Donald Trump
on NBC's "Saturday Night Live."
At least on this night, Baldwin's asides against the President of the United States, whose status as a three-time Emmy loser as producer and star of "The Apprentice" had already been pumped for laughs by host Stephen Colbert, were among the least acerbic things said about Trump.
Trump was a target throughout the evening for the glittering Hollywood cognoscenti, directly or indirectly. When nominees Jane Fonda, Lily Tomlin and Dolly Parton, in tribute to their roles in the much-beloved 1980 workplace movie comedy, "9 to 5," Fonda and Tomlin, used the occasion to remind those who may not remember the film that it was about women who "refused to be bullied by a lying, hypocritical bigot."
On visual evidence, Parton seemed less inclined to hammer home the present-day comparisons and even sent out a genial hello to Dabney Coleman, the actor who played the trio's crude employer.
But nothing was as awkward for the President as the on-stage appearance, early in the festivities, of his former White press secretary, Sean Spicer, who proclaimed to a somewhat nonplussed audience: "This is the largest audience to witness the Emmys, period! Both in person and around the world!"
This hyperbole was, one supposes, a "good-natured" dig at Spicer's notoriously inflated assessment of those attending Trump's inauguration.
Whatever the intent, the stunt fell flat with the audience and Melissa McCarthy, who last week won an Emmy for Best Guest Appearance by an Actress on a Comedy Series for her impersonation of Spicer on "SNL."
Otherwise, Colbert was a fine and funny host. But the Emmys handed out last night came across as a more direct and cogent repudiation to the present-day politics of polarization, though even some of the winners couldn't resist adding some of their own jibes.
"I'd want to thank Donald Trump for making black people first on the most oppressed list," Donald Glover said upon receiving his Outstanding Lead Actor in a Comedy Series Emmy for "Atlanta." "He's the reason I'm probably up here. " Glover, had earlier won Emmys for writing and directing one of "Atlanta's" episodes.
Standing ovations and huge emotions were released at various points throughout. Perhaps the biggest convergence of both came when Lena Waithe came on stage to share the Emmy for Outstanding Writing in a Comedy Series with Aziz Ansari, star and co-creator of the Netflix series, "Master of None." Waithe thus became the first African-American woman to win a comedy writing award.
She and the audience were moved to tears by the award and Ansari yielded the floor to her as she acknowledged her "LGBTQIA family" and said. "The things that make us different — those are our superpowers." She urged viewers who feel like outsiders to put on "a superhero cape every day and go out there and conquer the world. It would not be as beautiful as it is if we weren't in it."
One wonders if the Tweeter-in-Chief has an riposte as eloquent as that.
Read more: www.cnn.com