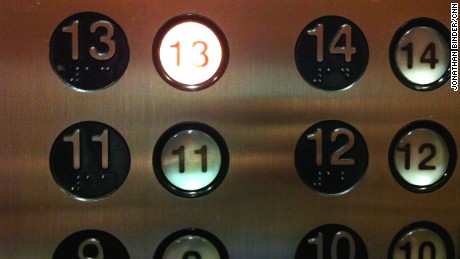 (CNN)Why do we fear today above all other Fridays? On any other Friday, we hear the gleeful exclamation of "TGIF." The work week is almost over, and playtime is about to begin.
But when Friday the 13th arrives, many of us respond quite differently. Travel arrangements are canceled, and doctor appointments are rescheduled. Risky endeavors of all kinds are put off in an effort to avoid tempting fate. Modern Homo sapiens are remarkably sophisticated creatures, capable of writing symphonies, solving the Poincare Conjecture and inventing Nutella, yet we carry around a number of fears that seem to be more characteristic of our ancient past.
Why? And why do we fear Friday the 13th in particular? There are several reasons.
First, it is all but impossible to avoid learning the superstition in the first place. Friday the 13th is perhaps the most prominent of a group of traditional anxiety-heightening superstitions that includes black cats, broken mirrors, stepping on cracks and walking under ladders. This collection of fearsome hobgoblins is an inherent feature of our Western culture, and our families and friends indoctrinate all of us.
If we encountered our superstitions at a much higher rate — if black cats were everywhere and mirrors broke on a daily basis — all of the ups and downs of life would occur in their proximity. These superstitions would not be unusual enough to imbue them with any special significance. Unexpected happy or unhappy events could not be easily attributed to the presence of a black cat or a broken mirror.
But because black cats and broken mirrors and Fridays the 13th are quite rare, it's almost impossible not to associate a calamitous event that befalls you when they're nearby with the superstition attached to them.
Finally, we should not underestimate the role of the media in keeping this irrational belief alive. As the author of a book on the psychology of superstition, my phone often rings during the week preceding Friday the 13th. Superstitious belief is a quirk of our humanity that carries an enduring fascination, and news outlets are always hungry for an interesting story. As long as these superstitions are kept floating around in our cultural ether, they will persist.
If you have managed to live your life without superstition, congratulations. A life of reason is better for us as individuals and as members of society than one spent in service to ghosts and magical thinking.
But if you are one of those who feel an anxious pang when you realize it is Friday the 13th, your reaction is not at all surprising. There are many forces conspiring to make you anxious, and they are likely to exist as long as we do.
Read more: www.cnn.com